Salmon Festival Location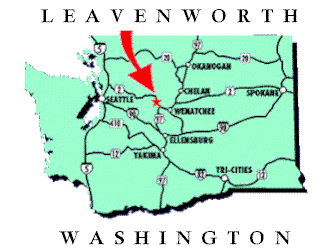 The Wenatchee River Salmon Festival is held on the beautiful grounds of the Leavenworth National Fish Hatchery, nestled in the heart of the rugged North Cascade Mountains of Washington State. Wedge and Sleeping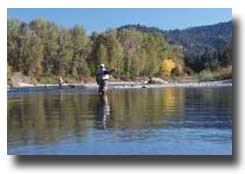 Lady Mountains provide a scenic backdrop for the returning salmon as they come home to spawn in the Wenatchee River and Icicle Creek. Nearby is the colorful Bavarian-themed village of Leavenworth. Only 120 miles east of Puget Sound on U.S. Highway 2, Leavenworth hosts visitors from around the world.
Contact the Leavenworth Chamber of Commerce for more Leavenworth-area information.
Here's a quick set of directions:
Once you're in Leavenworth…
Look for the Icicle Road at the west end of town just before entering Tumwater Canyon.
Follow the Icicle Road south just two miles.
Find the Salmon Festival signs and follow them on East Leavenworth Rd. about 1/4 mile.
Park free in the Fish Hatchery parking
lot.
FREE Salmon Festival Shuttle
The Salmon Festival Shuttle will run from 10 am to 4:30 pm on Saturday, September 17. The shuttle will stop on Leavenworth's Front Street near the Gazebo and will bring you right to the Salmon Festival's Main Entrance. Make it easy for yourself and ride the FREE shuttle to the festival!
Shuttle Schedule
Salmon Fest Saturday Map, September 17, 2016
Following is a downloadable map (.pdf) of the festival grounds.
Indicated are specific festival locations. The map opens in a new window or tab for viewing and download.
| 2016 Salmon Festival Saturday Map (.pdf)

The map may also be viewed/downloaded as an image (.jpg) that opens in a new window or tab.
| 2016 Salmon Festival Saturday Map (.jpg)

Download:
Free Adobe Reader for .pdf


Free Microsoft Word Viewer for .docx, .doc

Interactive Location Map
Click on the controls in the upper left to zoom in, out, or move the map. You may also use your mouse cursor to drag the map display. Click on the blue marker (parking lot entrance) for more information. Use your browser's 'refresh' button to go back where you started.