What is the Salmon Festival?
"Super Salmon"
Celebrating the Return of the Salmon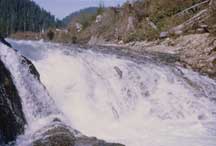 Thousands of people of all ages and cultures come to the Wenatchee River Salmon Festival each year to celebrate the return of the salmon to our northwest rivers. The rivers that are home to the salmon also provide sustenance for birds, frogs, salamanders, foxes, deer, bugs, bears and countless trees, bushes, and flowers.
We depend on these same waters to provide electricity for our homes, irrigation for our crops, livelihoods for our fishermen, and a place for our families to play, picnic, camp and hike.
A Three-Day Natural Resource Education Event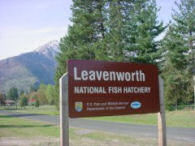 The Wenatchee River Salmon Festival is a three-day natural resource education event held each fall to celebrate the return of the salmon to the Wenatchee River. The Festival is held on the grounds of the Leavenworth National Fish Hatchery, located at the mouth of the scenic Icicle Canyon near Leavenworth, Washington.
Our theme this year is "Super Salmon". An exciting menu of hands-on activities and "edutainment" gives visitors a unique opportunity to discover and appreciate the complexities of the natural world and the significance of salmon to people of the northwest. Students from schools throughout north central Washington visit the Festival during the two special school days. On Saturday the event attracts thousands of visitors from the Pacific Northwest and beyond.
People, Natural Resources, Education, Entertainment and Science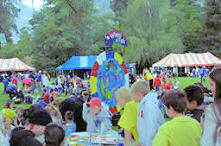 The Festival brings people, natural resources, education, entertainment and science together in a non-commercial, non-political package that benefits many. Since its 1991 inception, the Festival has remained true to its natural resource education mission while updating and augmenting activities to keep the messages fresh, timely and engaging. In response, the event has become nationally recognized for its educational excellence. Click here for list of awards.