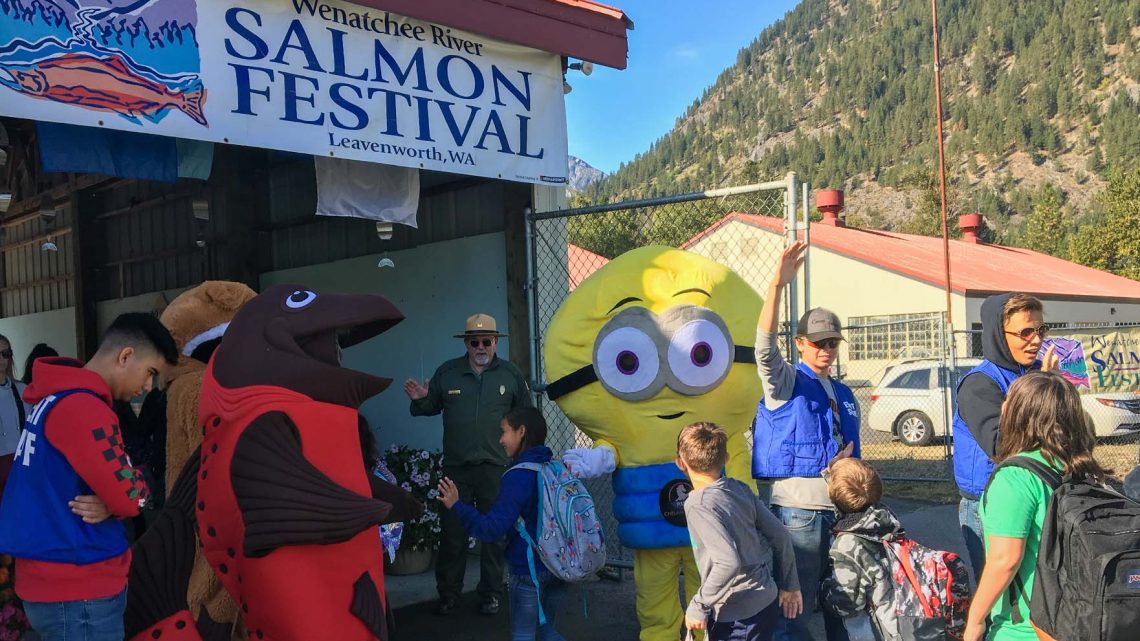 Salmon Fest School Days are just for students!
Since it's inception in 1991, thousands of 3rd and 4th grade students from across Washington State have migrated to Leavenworth National Fish Hatchery in the fall to enjoy the Wenatchee River Salmon Festival.  Teachers and students spend time through the school year learning about Natural Resources subjects that will prepare them for the activities at Salmon Fest.
An exciting menu of hands-on activities and "edutainment" gives students from throughout North Central Washington a unique opportunity to discover and appreciate the complexities of the natural world and the significance of salmon to people of the northwest.
By the Numbers….
The event draws 2,000 -3,000 students, and hundreds of teachers, educators, and parents, from over 30 schools experience the annual festival. It takes hundreds of Natural Resources staff and volunteers to run the 40+ educational activities and exhibits.
Our goal…  To inspire the next generation of stewards.
Salmon Fest 2021 has been canceled
due to the ongoing coronavirus pandemic. 
We hope to see you in 2022!
2022 Event Info
Dates: September 2021
Location: TBA 
This is a tentative list of drop-in activities that require no sign-up. We encourage you to visit these activities throughout the day as your schedule allows. Many of the activities will be located in the exhibit area. (This list will continue to be updated as we near the festival.)
SALMON FESTIVAL & NATIVE AMERICAN VILLAGE ACTIVITY SIGN-UPS ARE INCLUDED WITH REGISTRATION.
Teachers should choose their 5 preferred Salmon Festival activities (green) AND their 3 preferred Native American Village activities (blue) from these lists when completing the Teacher Registration Form (found below). We will do our best to accommodate your choices (register early for best selection!). Take into account any special needs your students may have when choosing your activities. Remember if you have participated in Kids in the Creek or the Dance Exhibition in the past two years, please refrain from signing up this year, so others have a chance to participate in these popular activities.
Salmon Festival Activities
Native American Village Activities
You will be able to choose 5 Salmon Festival activities from the list when registering.
You will be able to choose 3 Native American Village activities from the list when registering.
Registration for returning teachers typically opens in July. If you attended the previous event, you will be emailed at the same address when registration is open for the next event.
If you are a new teacher and haven't brought a class to Salmon Fest before (or if it's been a few years, or your email address has changed) please contact our Education Coordinator to find out how you can bring your students to Salmon Fest this year.
Post Event Evaluation Form
After the festival, teachers are asked to complete the Post Event Evaluation Form to provide feedback on their Salmon Fest experience. The survey will be made available for several weeks following each event.