2022: School Days at Rocky Reach Discovery Center, Sept 15th & 16th!

More information below.


Salmon... Wildlife... Nature... Rivers... Native Tribes...
Connecting Humans & the Environment
Due to Hatchery Construction, Salmon Fest 2022 has moved to the Rocky Reach Dam Discovery Center!
Thank you to our friends at the Chelan County PUD for helping Salmon Fest to keep on swimming!
Sadly, due to time constraints, we will not be hosting a community day on Saturday Sept. 17.
Next Event: September 15 - 16, 2022
2022 Event Info
Dates:
SCHOOL DAYS – Thurs & Fri, Sept. 15th & 16th

Location: Rocky Reach Dam Discovery Center
Celebrating 30 Years of Salmon Fest!
The Wenatchee River Salmon Festival is a three-day natural resource education event that will be held this fall at the Rocky Reach Dam Discovery Center to celebrate the return of the salmon to the Wenatchee River. An exciting menu of hands-on activities and "edutainment" provides attendees from throughout North Central Washington a unique opportunity to discover and appreciate the complexities of the natural world and the significance of salmon to people of the northwest.
With the cancelation of the 2020 & 2021 events due to Covid-19, we look forward to celebrating our 30th event in 2022!
Exciting Activities & Exhibits
Salmon Maze Reptile Man Native American Village Sardis Raptor Center Gyotaku Giant Fish Aquarium Wildfire Education
Check out these fun hands-on activities and exhibits that have been a part of 
the Wenatchee River Salmon Festival. 
Want to help with Salmon Fest?  
A Virtual Supplement to the "Reel" Deal
The best Natural Resources Event in the Northwest
Summit Award for Best Environmental Education & Best Children's Program Award
Washington Festivals and Events Association
National Environmental Leadership Award & "Sense of Wonder" Award
U.S. Fish & Wildlife Service
Pinnacle Award — International award for "Best Environmental Education"
International Festivals and Events Association
Conservationist of the Year
Trout Unlimited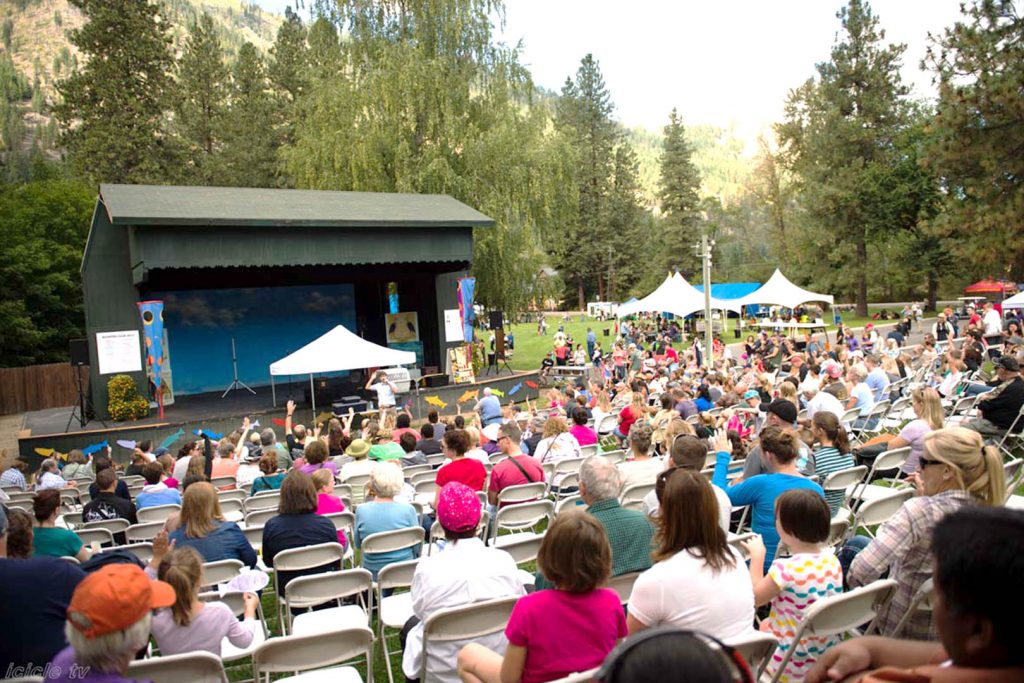 Volunteer Organization of the Year
American Fisheries Society
Outstanding Conservation Education
Environmental Education Association of Washington (EEAW)
Carl L. Sullivan Award — "Most Outstanding Conservation Education Event in the United States"
American Fisheries Society International Convention, Hartford, Connecticut
Summit Award for Environmental Education
Washington Festivals and Events Association
Click on a headline to read more.
Wenatchee River Salmon Fest is moving to the Rocky Reach Dam Discovery Center! Due to continued construction at the Leavenworth National Fish Hatchery, Salmon Festival 2022 is moving! We are so excited to announce that the student education days this year will be taking place at Rocky Reach Discovery Center on September 15th and 16th. …
The 2021 Wenatchee River Salmon Festival (Salmon Fest) is alive and well, as it welcomes North Central Washington teachers, students, and the general public to engage in the exciting new 2021 Virtual Salmon Fest. Salmon Fest Team members are thrilled to re-introduce the heavily expanded, "Salmon On-Line", a virtual supplement to the live festival event,…
Welcome to the new and improved Wenatchee River Salmon Festival website! 2020 sounds like "the future," so we finally took the plunge and spent much of this crazy year building out this new website to better convey the scope, popularity, and critical role that this festival plays in the lives of so many from all…
This event has been made possible thanks to generous support from the following organizations.
Check out the Sponsorship page for details on how your organization can join the event. 
Salmon returning to the Wenatchee River travel 500 miles and over 7 dams from the Pacific Ocean to get to their place of birth.
The oldest salmon fossil found is 50 million years old.
The intricacies of a salmon's genetic code insist that the salmon always faces upstream into the current. This means that when it navigates to the sea it swims tail first.
You can count the rings on a fish scale to determine its age, much like counting the rings on a tree.