Announcing the return of Community Day on Saturday!

Salmon... Wildlife... Nature... Rivers... Native Tribes...
Connecting Humans & the Environment
Join us for Salmon Fest at Rocky Reach Dam & Discovery Center September 21 - 23, 2023!
Over 30 Years of celebrating Salmon!
The Wenatchee River Salmon Festival is a three-day natural resource education event that will be held this fall at the Rocky Reach Dam Discovery Center to celebrate the return of the salmon to the Wenatchee River.  An exciting menu of hands-on activities and "edutainment" provides attendees from throughout North Central Washington a unique opportunity to discover and appreciate the complexities of the natural world and the significance of salmon to people of the northwest. 
Each year, student artists submit creations for use as our annual poster. See the winning creations from this year and years past.
Exciting Activities & Exhibits
Salmon Maze Reptile Show Native American Village Rolling Rivers Gyotaku Giant Fish Aquarium
Check out these fun hands-on activities and exhibits that have been a part of 
the Wenatchee River Salmon Festival. 
Want to help with Salmon Fest?  
Supplement your in-person visit with online resources!
A Virtual Supplement to the "Reel" Deal
The best Natural Resources Event in the Northwest
Summit Award for Best Environmental Education & Best Children's Program Award
Washington Festivals and Events Association
National Environmental Leadership Award & "Sense of Wonder" Award
U.S. Fish & Wildlife Service
Pinnacle Award — International award for "Best Environmental Education"
International Festivals and Events Association
Conservationist of the Year
Trout Unlimited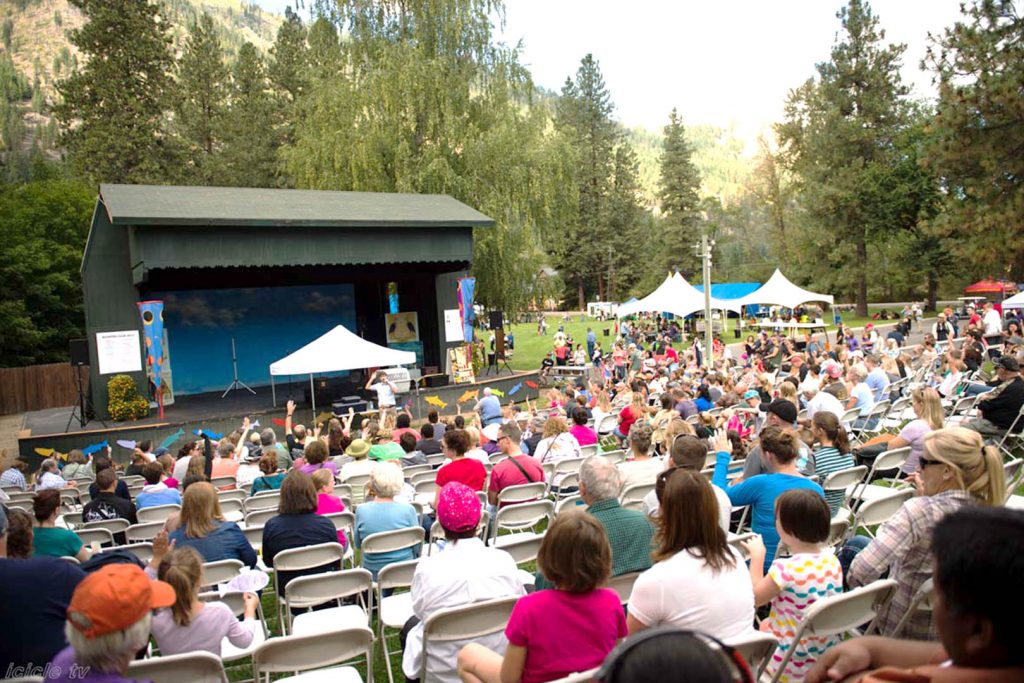 Volunteer Organization of the Year
American Fisheries Society
Outstanding Conservation Education
Environmental Education Association of Washington (EEAW)
Carl L. Sullivan Award — "Most Outstanding Conservation Education Event in the United States"
American Fisheries Society International Convention, Hartford, Connecticut
Summit Award for Environmental Education
Washington Festivals and Events Association
Click on a headline to read more.
Wenatchee, Washington – Swim on over to Rocky Reach Park and Discovery Center tocelebrate Salmon Peoples 9 a.m. to 5 p.m. Saturday, Sept. 23.  For the first time since 2019, community day is back for people of all ages to enjoy a full day of interactive games, art, storytelling, food and fun. Wenatchee River Salmon…
"Celebrate Salmon People" at the 31st Anniversary of the Wenatchee River Salmon Festival September 21-23, 2023! Our two "School Days" will be ready to host North Central Washington students on September 21st and 22nd, 2023 at Rocky Reach Dam & Discovery Center. We're thrilled to be able to bring back the popular "Community Day" on…
Wenatchee River Salmon Fest is moving to the Rocky Reach Dam Discovery Center! Due to continued construction at the Leavenworth National Fish Hatchery, Salmon Festival 2022 is moving! We are so excited to announce that the student education days this year will be taking place at Rocky Reach Discovery Center on September 15th and 16th. …
This event has been made possible thanks to generous support from the following organizations.
Check out the Sponsorship page for details on how your organization can join the event. 
Salmon returning to the Wenatchee River travel 500 miles and over 7 dams from the Pacific Ocean to get to their place of birth.
The oldest salmon fossil found is 50 million years old.
The intricacies of a salmon's genetic code insist that the salmon always faces upstream into the current. This means that when it navigates to the sea it swims tail first.
You can count the rings on a fish scale to determine its age, much like counting the rings on a tree.
Leavenworth National Fish Hatchery
12790 Hatchery Rd.
Leavenworth, WA 98826
Phone : (509) 548-6662 ext. 226