What's our Story?
Celebrating the Return of the Salmon
The Wenatchee River Salmon Festival is held each year to celebrate the return of the salmon to our northwest rivers.  The rivers that are home to the salmon also provide sustenance for birds, frogs, salamanders, foxes, deer, bugs, bears and countless trees, bushes, and flowers.
We depend on these same waters to provide electricity for our homes, irrigation for our crops, livelihoods for our fishermen, and a place for our families to play, picnic, camp and hike.
A Multi-Day Natural Resource Education Extravaganza
An exciting menu of hands-on activities and "edutainment" gives students from throughout North Central Washington and the public a unique opportunity to discover and appreciate the complexities of the natural world and the significance of salmon to people of the northwest.  The Festival is typically held on the grounds of the Leavenworth National Fish Hatchery, located at the mouth of the scenic Icicle Canyon near Leavenworth, Washington. This year in 2022, the festival is moving to the Rocky Reach Discovery Center due to continued construction. This year's Salmon Festival will only be hosting School Days (just for students) on September 15th & 16th.
People, Natural Resources, Education, Entertainment and Science
Since its 1991 inception, the Festival has remained true to its natural resource education mission while updating and augmenting activities to keep the messages fresh, timely and engaging.  In response, the event has become nationally recognized for its educational excellence. 
2022 Event Theme: "Celebrate the Return" at Rocky Reach Dam Discovery Center!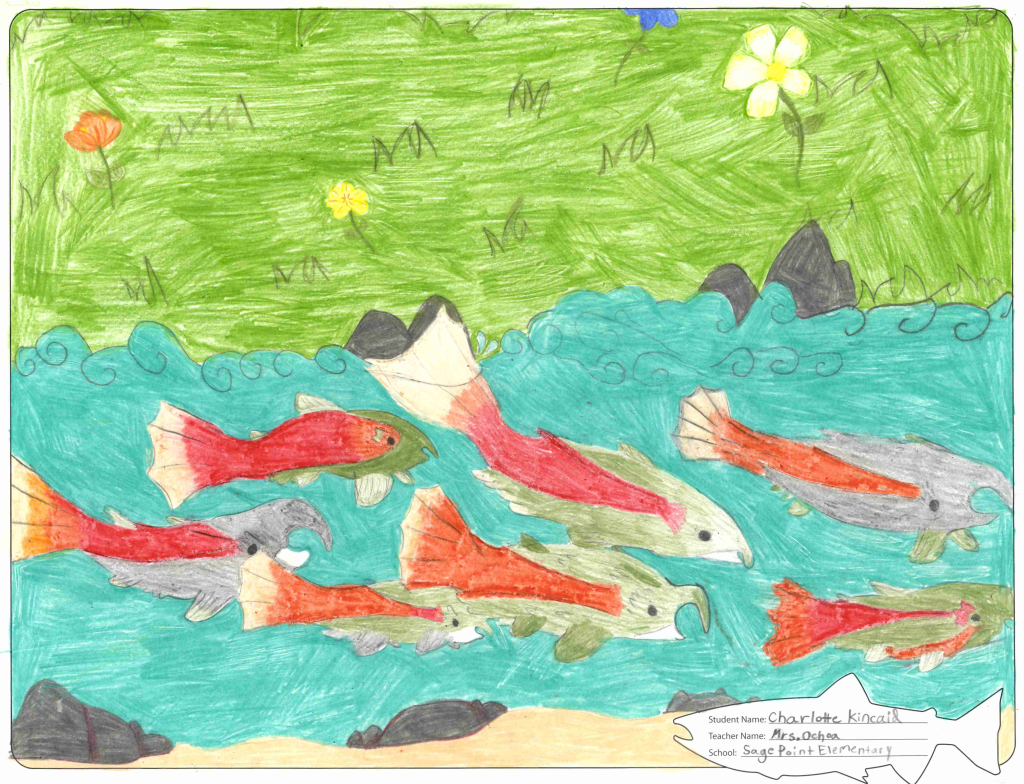 Every year, Salmon Fest gets a fresh new theme that is conveyed through festival activities and artwork.
2019 Activities & Exhibits
Salmon Maze
Native American Village
Giant Fish Aquarium
Hatchery History
Pollinator Garden
Sardis Raptor Center
Wheel of Fish
Community Chalk Art Project
Gyotaku
Web of Life
Salmon Storytelling Tent
Rolling Rivers
Archery
Disc Golf
Climbing Wall
Fly Fishing
Atlatl Throw
Scavenger Hunt
Chelan PUD Native American Village
Thanks to the Chelan County PUD for bringing their one-of-a-kind Native American Village event to Salmon Fest to greatly expand and enhance the event's offerings. The Native American Village provides an education experience for visitors to learn about some of our Northwest Native American cultures. It also provides a valuable opportunity for natives of all ages to come together to share their traditions and experiences.
More photos, activity and performance info, and the event booklet.
Watch a Video from Salmon Fest Community Day!
Nationally Recognized & Awarded
National Association for Interpretation Media Award
"Kids in the Creek"
Gold Summit Award
Environmental Program
Silver Summit Award
Children's Program
Bronze Summit Award
Newspaper Insert
Washington Festivals and Events Association
National Environmental Leadership Award
U.S. Fish and Wildlife Service
"Sense of Wonder Award"
U.S. Fish and Wildlife Service
…connecting kids with nature
Best Children's Program
Best Environmental Program
Washington Festivals and Events Association
"Women in Natural Resources"
Feature story in national magazine, highlighting Salmon Fest organizers
Pinnacle Award – International award for "Best Environmental Education"
International Festivals and Events Association
Carl L. Sullivan Award – "Most Outstanding Conservation Education Event in the United States"
American Fisheries Society International Convention, Hartford, Connecticut
Summit Award for Best Environmental Education
Washington Festivals and Events Association
Caring for the Land – "Excellence in Team Collaboration and a Standard of Education Unmatched in the Region"
Pacific Northwest Region 6, USDA Forest Service
Summit Award for Environmental Education
Washington Festivals and Events Association
Conservationist of the Year
Trout Unlimited
Summit Award for Environmental Education
Washington Festivals and Events Association
Academic Excellence Award
Leavenworth Kiwanis Club
Volunteer Organization of the Year
American Fisheries Society
Outstanding Conservation Education
Environmental Education Association of Washington (EEAW)
2019 Festival Hosts, Partners, Sponsors and Supporters
The success of Salmon Festival is due in large part to enthusiastic participation and cooperation from both the public and private sectors. The partnerships below are the key ingredient to our Festival's creativity and vitality. Learn about Sponsorship Opportunities.  
Agency & Business Partners
Cascade School District Bus Department
School Districts of North Central Washington
Wenatchee Tech-Law Enforcement Academy
WSU Extension
Beyond The Frame
Colville Confederated Tribes – Wenatchi's
Inter-Tribal Educators and Exhibitors – Native Village
Fry
Cashmere Valley Bank
Chiwawa River Lodging
Das Copy Shop
Plain Automotive
Fingerling
Cashmere Valley Bank
Mountain Home Lodge
Nature Calls
Uncle Uli's Pub
All Festival Volunteers
Candice Dillhoff, Artist
Carol Dreis Flowers
Cascade Discovery School
Cascade High School Volunteers
Cascade Quality Water
Cashmere High School
Cherry Creek Radio – KPQ
Christie Pease and Chalk Artists
Columbia Breaks Interpretive Center
Colville Confederated Tribes-Wenatchi's
Eastmont High School Volunteers
Exhibitors 
Food Vendors
KOHO 101.1FM Radio/Icicle Broadcasting
Leavenworth Chamber of Commerce
Leavenworth Summer Theater
Native American Inter-tribal Members
NCRL- Book Mobile and Salmon Bots
NCW Life/LocalTel
North Central Washington Schools
Outdoor Recreation Exhibitors
Sunny FM Radio
Team Naturaleza!
TOGETHER! for Youth
Upper Valley Museum
Wenatchee High School Volunteers
Wenatchee Tech-Law Enforcement Academy
Yakama Nation
Want to support Salmon Fest?